Filesloop review
Filesloop is an aggregator service located in the Czech Republic that can grab content from various sources and provide you with a download link or store these files in your own personal cloud storage. But how good is their service really? What are the flaws of their service?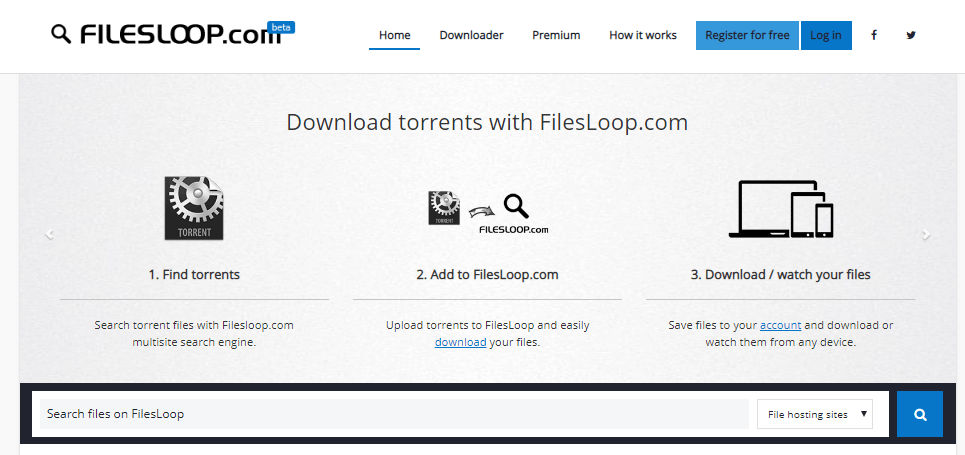 We are the team behind Torrent Advice and it is our greatest pleasure to check Filesloop.com for you. We will look at every aspect of this service, we will put it through a hostile surrounding and then we will rate this service from our point of view because user experience matters the most.
Basic overview
Filesloop is interned based application which means that in order to use their service you won't need any additional software. With an internet browser of your choice, with a device capable of accessing the world wide web and with a torrent you want to download you have all that you need in order to use it. Any internet-based service deals with a huge potential which is their accessibility. These applications are more accessible than software which is developed on a concrete OS, but this accessibility can be an issue for small or not that experienced teams of developers.
To use this potential to its fullest, you need to create a flexible design that can change to fit any screen size. Filesloop did their best, but unfortunately smaller mobile devices have problems with HTML elements that will be weirdly resized and which will cover themselves. We found it hard to use and limiting for free users because the adds, that are there to help monetize your time spend on Filesloop, cover one-third of the screen and on a small screen it is too much. These add also slow down the speed of this website, which could be improved. Premium users don't have these limitations on their accounts.
The search bar feature
One of the most used features of this service is a search bar. In this simple input, that you can use for searching the whole internet for a torrent file you want. It covers most of the favorite public trackers. But it doesn't cover any private tracker, because of the way how private trackers work. It also supports a few file hosting services which are good for finding the content you want. With this search input, you can add a new torrent in two or three clicks which is nice.

Filesloop doesn't influence this content and they are not responsible for it. That means any unreliability is not their fault. We want to mention that in some cases is easier to find torrents elsewhere and if you searched for them on trackers you use more often it will be more reliable. One of our testers experienced a bug which made his experience bad. He tried to add a torrent via the search bar, but instead, it did nothing on multiple tries. We were able to recreate this which sounds bad, but, please, remember that Filesloop is not responsible for the content on these servers and they only provide you with a "google search bar" on their website.
Cloud storage options
A big part of user experience is the cloud storage provided to every account. The current storage that is provided offers you a list of all files you added to it and after a click on a single file, you have different ways of interactions with it. This storage doesn't allow you to sort content into folders. You cannot also create a new folder or to move content from one folder to another one. A list option is easy to use if you have a few torrents added to your cloud, but it gets messy when you download a lot. There is no search bar that would allow you to search for your torrents, but you can always use the native search option with pressing control/command and the F key.
It is not the best workaround, but we have not found any other way of searching in a large list. This storage is unlimited for premium users, which means that there must be some sort of other limitation. And there really is. After 30 days of storing something in your cloud, their bot will delete them in order to create a space on their internal servers. That is something you should bear in the mind because nothing is more frustrating than losing a file only due to auto delete.
This is called the lifetime of the file. It is a rather unpopular way of limiting the amount of data. Because as we said, it is the most frustrating way for all users. As we talked about the small issues with their design on phone, we must also mention that sometimes on phones you won't be able to scroll down. This can be easily fixed in CSS of their page, but right now it is a small and annoying bug.
Neat native video player
A great feature that Filesloop has for all users is their native video player. It comes in the play for every user (premium and free as well). The used jPlayer that has great potential with a lot of features that can be added like native Chromecast or Airplay support. We find adding these features as something challenging for smaller teams. Since it asks for a lot of knowledge and focused work. But users always like the better media player. It is important to know that this player can not view an image file or pdf.
It is capable of playing music in the correct setup. And it can be streaming all mp4 files that you want to see. We liked that you can use their handy "15 seconds back button" to rewind last 15 second. There is a lot of moments when you can use it, for example, to see the last goal once again. They also have support for subtitles from the same torrent folder and from the open subtitles as the preferred way. Open subtitles always have subtitles ready for your usage.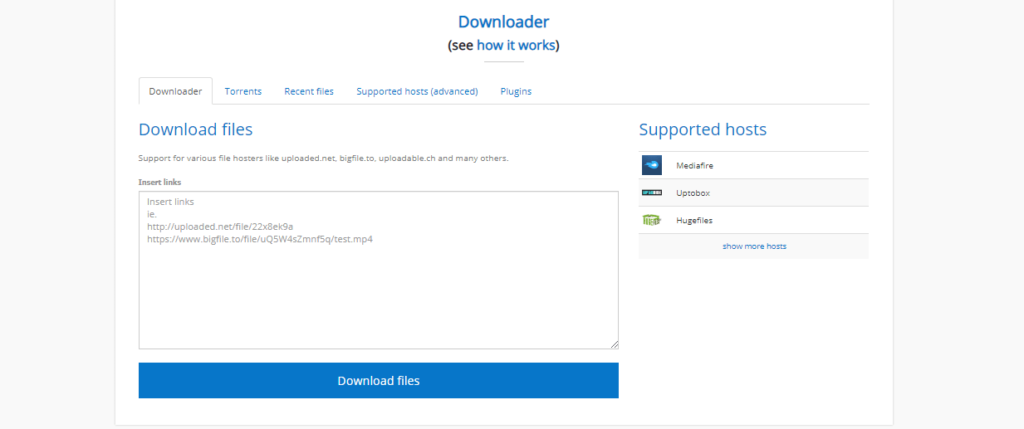 Media player – part 2
However, in a rare instance, you would have your subtitles off a few milliseconds or more and we can not stress how painful it is when it is not synced. There is no solution other than search for a better torrent or better subtitles because you can not change settings of them in this video player. You can not change settings of the video file as well, which can be annoying if you watch it on the road, but if you are computer only user and you don't care about bandwidth, this means almost nothing to you.
We watched a lot of video files during our testing and it worked great. The only thing that you need to keep in your mind during it is that jPlayer works only with mp4 files and you need to convert your videos before watching. Sometimes you will be asked to convert your mp4, which could be confusing, but it is because of the variety of codecs that are on the world right now.
More than just torrents
If you want to download more than just torrents, you can use their supported file hosting servers which are Mediafire, Uptobox or Hugefiles and add a file from these servers directly with a link to it. Mediafire is cloud storage like a Google Drive or OneDrive. Uptobox is unusual file share that allows you to share your file with your friends via a link. It is almost the same service as Hugefiles. All of these are accessible via a direct link, which could make you think that downloading via this service is waste of time. However, using Filesloop allows you to store these files in cloud storage for 30 days, which is great for flexibility. As we said before, you can access your account on many devices and thus you can download the one file on all of them if you need it.
Torrent downloading process
Filesloop allows adding torrents to your account via magnet links, direct links or with an upload of the .torrent file. Magnet links usually are the slowest ones from this list. After adding your torrent their client will fetch it for you. Fetching stands for the actual download using torrent technology. But we know that you care about the speed of it, which depends on something called seeds. Seeding is an activity when other users on the BitTorrent network share parts of their completed file with others until they also complete their files. This sharing is the backbone of the whole torrenting. If a file has zero seeds that means nobody can share it with you, which means you can not download it. Torrenting is different than normal downloading.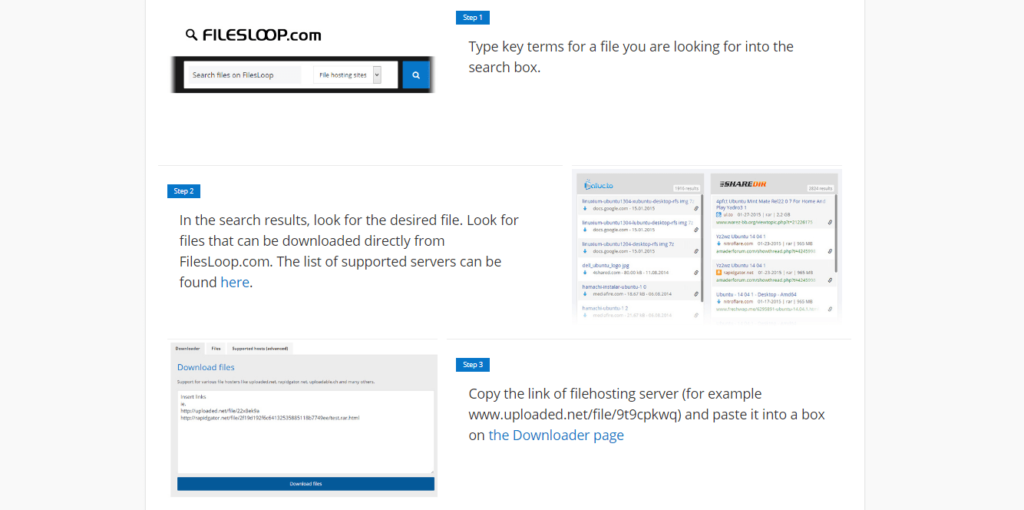 Using software for torrenting in your computer would expose your private IP address to all who are participating in this sharing with you. But when you use any online torrent downloader like this one, during the actual torrenting they use their own private or public IP address. This protects you from any IP tracking or monitoring service by any possible third-party software for the torrenting.
You are safe. The only one who has the knowledge of what torrent you downloaded is Filesloop. Because there is many torrent client, we tested their service on many torrents to see how much does the speed change. On a file with over 400 seeds, we were able to measure the average speed of 140 KB per second and highest peak that we have seen was on 1 MB per second. File with fever seeds (20) had peaked on 70 KB per second and average speed of 45 KB per second.
Download speeds
Download speed to your device depends only on the connection between your device and Filesloops servers. These are located in the Czech Republic as we found by our test. The Czech Republic is a small country in the middle of the European Union, which is a good location for users around Europe, but terrible from anyone outside of it, because of the Geographical distance. Please, allow us to explain it in more detail.
Imagine that you are a post and you need to send a letter, which in this image is your data, from location A to location B. You send your fastest pony on the road and he runs to the nearest point for resting. There will your postman change ponies and go to another rest point. These rest points are in the real world servers that create the internet. If your postman had to change on a lot of rest points, the route will take longer to finish.
Bigger internet projects use a network of servers which creates more starting points for your postman. This is a solution to have good download speed on almost any location. As we said, Europeans can have a good download speed, the only thing that can slow it down (because the geographical distance is not that big deal in this case) is their internet provider. If you are from North America or East Asia, brace yourself for slower speeds. The Farthest locations have a bigger drop in their speed reliability which is a big issue for Brazil or Australia.
Pricing options
Filesloop has one premium plan which can be purchased like a month plan, three months plan and half year plan. Premium users have unlimited bandwidth, they can download how much torrents per day they want and download how much they want simultaneously. These plans cost 4.90 € for one month, 11.90 € for three months and 19.90 € for 180 days. Free users can download only one file up to one GB, which can be used to test this service, but it is limiting at its usage.
Pricing plans
Now, allow us to finish our review. We see Filesloop as a solid option for torrenting. It is currently in Beta phases, which explains small issues. We especially liked how easy it is to use them for downloading. As not big fans of the auto-delete after 30 days, we would like some synchronization to other cloud places. It can be frustrating to download one torrent over and over every month. We rate it as solid three stars out of five.